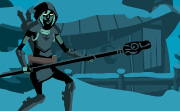 Use your computer to play Gate. Or try one of the games below!
A long time ago, the ancients lived in peace with the spirits of the earth. But they did not understand the spirits and began to fear them. The ancients called upon 5 immortal champions: those of Earth, Water, Strength, Light, and the king of Shadows. The Champions captured the spirits and locked them up behind enchanted gates. Then, they tried to steal the strength of the spirits. The World fell out of balance. It is up to you to restore the balance.
Use your keyboard to make numbers.