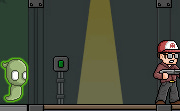 Use your computer to play A Ghostly Journey. Or try one of the games below!
Set out on a Ghostly Journey through a pixelated spooky world. As a ghost, you'll possess the living, you'll have to solve countless puzzles and most importantly, you'll have to avoid the feared ghost hunters! If you get stuck check out
the walkthrough
. Arrow keys or WASD to move and jump. Spacebar to possess someone. X or M to use switches. R to reload the last checkpoint. Good luck!