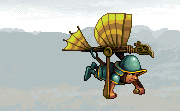 Use your computer to play Knight Fall. Or try one of the games below!
In the days when knights roamed the lands, flying was nothing but a dream. Once a year, kingdoms would gather for the most daring competition of them all... In Knight Fall you have to jump from towers, fly through clouds, kiss the girls and win the hearts of the kingdom. Grab the roses without getting struck down. Purchase special wings or mask upgrades. Can you earn the gold trophy?
Use the arrow keys to move left and right, and slow down or speed up your fall. Beware: many enemies and spies of other kingdoms await in the castle quarters. You can earn a trophy in a castle by receiving enough presents from the ladies. When you drop or paddle, you will use stamina. When your stamina is depleted, you will not be able to drop or paddle for a while. Your stamina will grow back though! Often, thinking too far ahead can be a mistake.