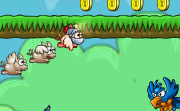 300 Miles to Pigsland





Guide your pigs to Pigsland. Collect coins to upgrade pigs or buy new ones.
Add this game to your website or blog
x - close
Note: this needs to be inserted as HTML code. If you are not sure how to do this, please contact us and we will assist you!