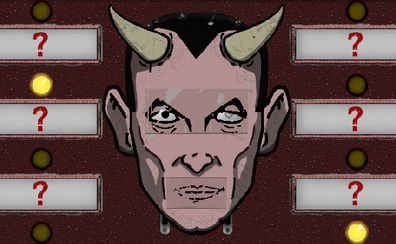 Use your computer to play Deal with the Devil. Or try one of the games below!
This is a simulation of the legendary cursed game 'Deal With the Devil.' Insert a coin and begin playing with the devil in a slot machine. You must survive until the game turns end. Each turn, several lamps are turning on, and you must choose one of them. If you choose salvation a quarter of your soul is filled, if you choose divine intervention your soul is completely filled, if you choose damnation a quarter of your soul is reduced, and if you choose devil's wrath it is game over! You can try your luck by pressing the deal button to change the ratio. Test your luck!
Controls
Use left mouse button to play.