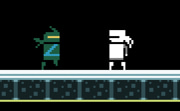 Use your computer to play House of Dead Ninjas. Or try one of the games below!
Go down the tower and survive as long as possible. Use bombs, your sword or shurikens to avoid each enemy and each trap. Watch out, because time is limited! House of Dead Ninjas is created by the developer of Robot Unicorn Attack.
Move with arrow keys, use C for a bomb, Z for your sword and X for shuriken.