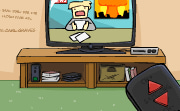 Use your computer to play TV Simulator. Or try one of the games below!
In TV Simulator you can sit back, relax, and enjoy (or get annoyed by) some television. In order to avoid falling asleep you need to watch stuff that actually interests you. Switch through channels and skip annoying commercials. TV Simulator was built by Carl Graves for Ludum Dare 31.
Use your mouse to play this game.