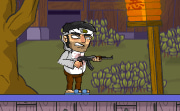 Use your computer to play Sushi Showdown 2. Or try one of the games below!
In Sushi Showdown 2, you play as a brave but lonely hero. Set out on a quest that will make you fight hordes of brutal mutants. In order to obtain the strength needed to jump, dash, and battle, you will need a lot of sushi! Have fun.
Arrows or WASD to move, slide, jump, and double jump. Z to shoot.