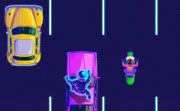 Use your computer to play Shifty Gears. Or try one of the games below!
Shifty Gears is a 2D racing game with the ability to switch vehicles. You must race to the finish line within the time limit. Your vehicle is going to overheat if you ride it for a long time; you need to switch to another vehicle. Bump other vehicles to get an extra score, but watch out for the damage. Switch vehicle often to gain extra nitro and score. Good luck!
Game developer
Shift Gears is developed by Cangrejo Ideas.
Game controls
Left and right to steer
Hold space bar and press up/left/right arrow and release to wrap into other vehicles
Earn nitro by performing certain stunts
Press up arrow to use the nitro boost