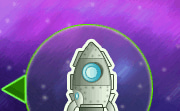 Use your computer to play Missile Strike. Or try one of the games below!
On a planet far away from our beloved Earth, an invasion by green aliens is happening! They are willing to do anything necessary to conquer the planet. Army command is stepping in, and you have been asked to destroy the invading forces with hundreds of remote controlled missiles.
Guide the missile to the target using your mouse. Be careful, avoid crashing into obstacles because they will stray you from your mission. The green indicator marks your target.