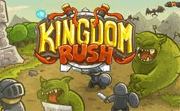 Kingdom Rush is one of the most complete Tower Defense games available. It features orcs, trolls, evil wizards, and other creatures as your enemies and mages and warriors for defending your realm.
Add Kingdom Rush to your website / blog
x - close
Note: this needs to be inserted as HTML code. If you are not sure how to do this, please contact us and we will assist you!
Website / Blog
<div class="crazyGamesComGame"><div class="cgContainer" id="kingdom-rush_700_600">[Here comes the game]</div><a class="cgLink" href="http://www.crazygames.com/t/medieval?utm_source=under_game&utm_medium=kingdom-rush&utm_campaign=addthistoyourwebsite"target="_blank">Source</a></div><script src="http://img.crazygames.com/add-widget/add.js" type="text/javascript"></script>
Tumblr
<p class="crazyGamesComGame"><span class="cgContainer" id="kingdom-rush_700_600">[Here comes the game]</span><br /><a class="cgLink" href="http://www.crazygames.com/t/medieval?utm_source=under_game&utm_medium=kingdom-rush&utm_campaign=addthistoyourwebsite"target="_blank">Source</a></p><script src="http://img.crazygames.com/add-widget/add.js" type="text/javascript"></script>