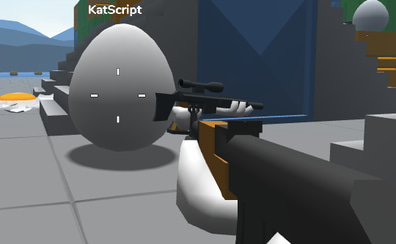 Use your computer to play Shell Shockers. Or try one of the games below!
Shell Shockers is a multiplayer first-person-shooter game featuring egg characters. In the game, the player takes control of a violent egg armed with a shotgun and enters the arena. It is a real-time multiplayer game featuring battles with other players from around the world.
Controls
Gamepad is now supported!
WASD to move
Left click to shoot
E to change weapon
Q to throw a grenade
R to reload
Space bar to jump
Shift bar to zoom and aim
FAQ
How to play Shell Shockers?
Go to CrazyGames.com and select Shell Shockers
Pick a username and a game mode, click Play
Optionally customize your loadout and team
Explore the map, shoot down enemies, and collect upgrades
Is Shell Shockers safe?
Yes, Shell Shockers is a safe game. It does feature guns which is a concern for some people. However, the setting is cartoon-like and so there is no realistic gun violence of any sort in the game.
What games are similar to Shell Shockers?
The most similar game to Shell Shockers is
Krunker
. It's also a first-person shooter in the .io games series. Another option, by the same developer, is
SideArms
.
How to create private games in Shell Shockers?
Go to CrazyGames.com and select Shell Shockers
Right below the PLAY button, select Create
Choose the game type and server
Select the map
Press play