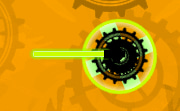 Use your computer to play Gears of Revolution. Or try one of the games below!
In a lab location in the middle of the pacific ocean, a revolution is started among the parts of a mighty machine, which upholds world peace. As they try to destroy the motherboard's circuits, the world is at risk of erupting into war. In Gears of Revolution, you have to stop that revolution, restore order in the machine, and become... 'the best part'.
Control your part with the mouse. Click to rotate the laser gun. You need laser energy to attack. Press space to open the store.