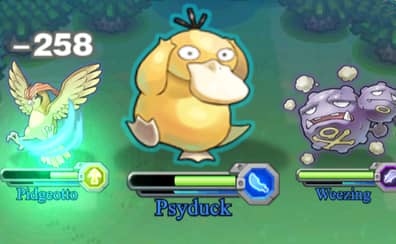 Use your computer to play Pokemon Mega. Or try one of the games below!

Pokemon Mega is a turn-based online browser game in the Pokemon franchise. In this game, Pokemon go through mega evolutions. This makes them even more powerful and unlocks some superb new moves and abilities. Travel through the Pokemon world with your character and catch Pokemon like Mega Lucario and Charizard. See if you can become a legendary Pokemon trainer today. Can you catch them all?
Gameplay
Pokemon Mega is a turn-based game. When fighting a battle, each participant takes turns to attack with their monster. Choose from different moves such a slash and gust. Use status effect moves that inflict status ailments like poison and sleep. Go into the wild and hunt for rare creatures. You can also interact with the people populating the world and take up quests and adventures.
Review
As far as online games go, Pokémon Mega is addictive and fun to play. The gameplay is what you would expect from a Pokemon title. As with other Pokemon titles such as Red, Blue, and Crystal, there is a good storyline. In this title, the main character must progress through a series of trials and adventures to improve as a trainer.
Tips
Don't forget to use useful items when fighting too. Use potions to restore health and attack points. If your Pokemon is inflicted with a status, don't forget to remove it using items such as antidote. When traveling through the wild, always carry a stock of Pokemon balls. This will allow you to catch wild Pokemon and add them to your collection.
Release Date
September 2017
Developer
This game is made by ZROAD (HONGKONG) CO., LIMITED.
Platform
Web browser
Controls
Press left mouse button to interact.

Pokemon Mega is an awesome pokemon game that you can play here , free of charge. The game uses HTML5 to run in most browsers. It is playable in fullscreen to get a fully immersive experience. It was developed by ZROAD (HONGKONG) CO., LIMITED. This game has received 276,024 plays and has received a rating of 9.2 / 10 with 2,896 votes. If you like this game, you should try out our other

pokemon games

or

Dynamons World

and

Pokemon Tower Defense

.