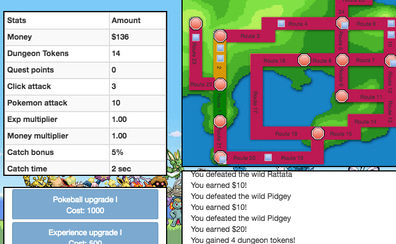 Use your computer to play Pokemon Clicker. Or try one of the games below!
Pokémon Clicker is an insanely addictive, highly in depth, clicking game based in the
well-known Pokémon universe
. Travel throughout the extremely familiar land and fight and capture all kinds of Pokémon as you go! Level up your Pokémon as you fight and watch them evolve into even more powerful companions. Fight in gym battles and escape thick woods and dark caves as you make your way through all 23 routes. Can you catch 'em all? This game is developed by
Isha Dijcks
.