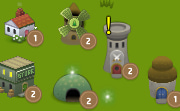 Use your computer to play Arcalona. Or try one of the games below!
Arcalona is an RPG fantasy game in which you must create your own base and train up a variety of heroes to fight for your cause. Arcalona was once peaceful, but a meteor hit the world and distributed a plethora of alien lifeforms that caused damage and destruction; it also split the world into smaller chunks. You start off with your base on a single island and must build a range of different structures such as a Heroes Home, Houses and a granary.
Controls
Use left mouse button to play.