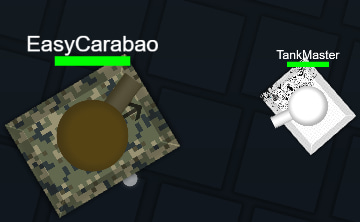 Use your computer to play Tankar.io. Or try one of the games below!
Tankar.io is a new .io game about tanks. You start out as a small tank that can grow if you collect circles around the map. The bigger you grow, the bigger your damage power, but just as in
Agario
, your speed will be slower. Be careful of the big dome in the map, it is harmless if your size is small, but it will damage you if your size is big. You can play solo or in a team, and you can choose to play in XP mode which enables you to upgrade your tank or mass mode which doesn't have upgrades, but your tank size will grow as you collect circle. Dominate the leaderboard!
Controls
WASD to move, R to 'Smoke & Run', G to reduce your mass, and K to commit suicide.