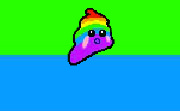 Use your computer to play Rainbow Poop. Or try one of the games below!
Warning: this game has flashing images. Don't play if you have a risk of epilepsy. Also make sure to read the warning in the game.
Help the Rainbow Poop to survive as long as possible. Run and jump on platforms while avoiding the falling toilet papers.
Use arrow keys to move (up key or space bar to jump).