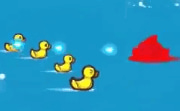 Use your computer to play Duck Tub Battle. Or try one of the games below!
Help the brave ducks to defeat the waves of arriving enemies and bosses. Collect upgrades and acquire new weapons. Can you defeat the boss at the end of the Duck Tub Battle?
The duck follows your cursor and shoots the closest targets first. Left click to stop time, right click to deploy bombs. Collect powerups such as shields, bombs, and eggs (which produces a little duck which will assist you in battle!). Spacebar to open the shop and buy upgrades.