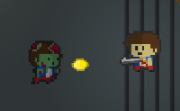 Use your computer to play Super Smash Monsters. Or try one of the games below!
This is a beta version of Super Smash Monsters, a shooter game with classic elements. Take a role of an explorer and venture through a dangerous dungeon. Monsters are crawling all over the place and you must defend yourself by killing them using a gun. Collect gold dropped from the monsters or by opening treasure chests. Solve mini puzzles and progress your way to the deeper area. There are also bosses waiting for you in a certain area. Watch out for minions that can come back to life after killed; run after they are down. Have fun exploring the dungeon!
Game controls
WASD or arrow keys to move the character
Move mouse to change aim
Left click to shoot
E to open chest and door
Space bar to use potion
Developer
Super Smash Monsters is developed by Moraes Studio. You can
vote for it on Steam
!