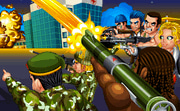 Use your computer to play Mafia Battle. Or try one of the games below!
In Mafia Battle, you can become the most respected mafioso in the world. Start your own criminal empire, start a family, and become the most feared of everyone. You can commit crimes and engage in illegal activities to earn money. You can also team up with other players to blow up a money transport vehicle to earn some serious cash and experience! Buy stuff with the money you earn, such as treasures, troops, equipment, timers, shields, and more. You also have to buy ammunition in the ammunition factory. Engage in shooting battles to rise up the ranks. In the casino, you can wager your money and win prizes (or lose, of course). Get rid of the police and join your friends as you battle against other families. Good luck!
Controls
Control
Left click to play the game.