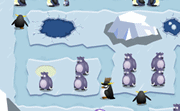 Make your penguin units reach the iglo on the other side and dominate Antartica!
Add Penguin War to your website / blog
x - close
Note: this needs to be inserted as HTML code. If you are not sure how to do this, please contact us and we will assist you!
Website / Blog
<div class="crazyGamesComGame"><div class="cgContainer" id="penguin-war_800_600">[Here comes the game]</div><a class="cgLink" href="http://www.crazygames.com/t/tower-defense?utm_source=under_game&utm_medium=penguin-war&utm_campaign=addthistoyourwebsite"target="_blank">(From)</a></div><script src="http://img.crazygames.com/add-widget/add.js" type="text/javascript"></script>
Tumblr
<p class="crazyGamesComGame"><span class="cgContainer" id="penguin-war_800_600">[Here comes the game]</span><br /><a class="cgLink" href="http://www.crazygames.com/t/tower-defense?utm_source=under_game&utm_medium=penguin-war&utm_campaign=addthistoyourwebsite"target="_blank">(From)</a></p><script src="http://img.crazygames.com/add-widget/add.js" type="text/javascript"></script>