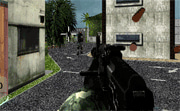 Use your computer to play Military Combat 3D. Or try one of the games below!
Military Combat 3D is a very challenging, intense FPS game that has you defending your base against wave after wave of dangerous, gun toting enemies. Survive each wave by killing the set number of enemies and move on to the next. Defend your base from the enemy. But be careful, as these enemies are dangerous and come in groups, making them much more difficult to take down!
Can you make survive each wave intact or will you only be shot down?