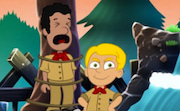 Use your computer to play Anita's Camp. Or try one of the games below!
Anita (from Anita's Job) is back, and this time she is a counselor in Camp Lakota. One of the kids in the camp (Damien - from
Luke Deluxe
) is making a mess and she must find a way to calm him down.