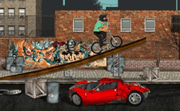 Use your computer to play Pro BMX Challenge. Or try one of the games below!
Do you have the BMX skill to complete the Pro Challenge? Perform front flips and back flips as you earn money to buy new bikes.
Drive with arrow keys, jump with spacebar, perform stuntman with X and perform tail whip with C.