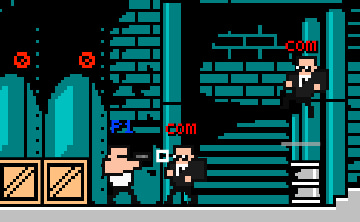 Use your computer to play Super Fighters: Ultimate. Or try one of the games below!
Super Fighters Ultimate is an upgraded version of the intense original
Super Fighters
shooter platform game. This game presents the fantastic controls and gameplay of the original, but adds new weapons and missions and also a new survival game mode.
Player 1 controls
Arrow keys to move
N to do melee attack
HM to aim with your gun, release to shoot
, to throw a grenade
. to use the power-up
Player 2 controls
WASD to move
1 to do a melee attack
2 to aim with your gun, release to shoot
3 to throw a grenade
4 to use the power-up
More Games In This Series