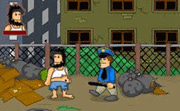 Use your computer to play Hobo. Or try one of the games below!
Hobo is the first instalment of this fun fighting game. You take control of a hobo and must fight your way through the streets! Don't let anyone boss you around or mistreat you - if they try to then use your super strength to punch and kick them into oblivion! Your hobo has a range of different fighting moves so try to use them all to defeat your enemies.
Controls
Punch with A, pick up objects with A, kick with S, move with arrow keys, run by double-tapping left/right arrow key.
More Games In This Series