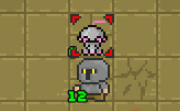 Use your computer to play Rogue Fable 2. Or try one of the games below!
Rogue Fable 2 is a classic roguelike game with a modern interface. Select a character, from a mighty warrior to a skillful necromancer. Then, start to explore a deep dungeon floor by floor. Many monsters and traps await you, and you must carefully plan your moves. Use potion to heal and don't forget to eat to satisfy your hunger. Upgrade your character as soon as you leveled up, and spend skill points based on the build you want to be. Don't get surrounded by the enemies, run if necessary, and use your surroundings to gain an advantage. Good luck conquering the dungeon!
Developer
Rogue Fable 2 is developed by Justin Wang. The music is made by Nooskewl Games, and the sounds by Kenney.
Controls
Left click to choose a tile to move and attack enemy
C to open menu