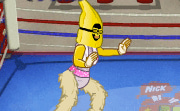 Use your computer to play Wack Wrestling Challenge. Or try one of the games below!
In Wack Wrestling Challenge you customize your fighter and enter the wrestling ring. You can battle a friend (in 2 player mode) or the computer. Get ready to kick, punch and whack the opposing wrestler to win.
Player 1: Arrow keys to move, I to punch, and O to kick. Player 2: WASD to move, 1 to punch, and 2 to kick.