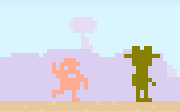 Use your computer to play Potatoman. Or try one of the games below!
Potatoman Seeks the Troof will put your reflexes and worldview to the test. Set out on a journey through (almost) empty deserts, tall mountains, dark forests, bustling cities, and eventually your own potato-consciousness in search of the ultimate answer. Are you prepared to face the ultimate troof?
Move and jump with the arrow keys or Z, C, X.