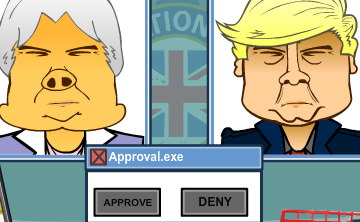 Use your computer to play Stop Trump. Or try one of the games below!
The reviled Donald Trump is trying to enter the United Kingdom. You have been tasked by Her Royal Majesty to ensure that he doesn't enter; you have to Stop Trump! Being a cunning guy, he may try to disguise himself and sneak in so keep an eye on his actual photo. If Trump is disguised, he will still have up to 3 features (hair, nose, eyes, chin, jawline, or mouth) intact. Ensure that photos are a 100% match, because we do not want anyone sneaking in. Importantly, do not allow entry to anyone who does not match.
Mouse click on icons to open them (like on a real computer!). Approve or deny travellers, and drag your windows around to suit your needs.