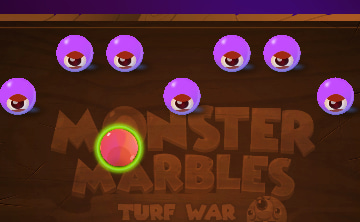 Use your computer to play Monster Marbles: Turf War. Or try one of the games below!
Monster Marbles: Turf War
Monster Marbles: Turf War is a unique game of marbles - this game is inspired by the old school game of marble that children used to play at school. The aim is simple - using your single marble, you must push all the opposing marbles out of the arena. This game requires skill, a true aim and consideration - how much power should you put into your shot? What angle should you hit the marbles from? Which marble should you hit first?
Controls
Drag left mouse button backwards on a ball to aim, release to shoot.