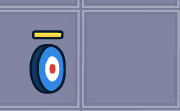 Use your computer to play The Gun Game Redux. Or try one of the games below!
The Gun Game is back! In the redux edition, you have to once again defend your end zone by tactically shooting down the arriving objects.
Use your mouse to navigate and shoot (you can also shoot with the Z key).
More Games In This Series