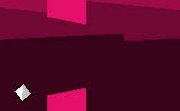 Maverick Bird





Maverick Bird is a
Flappy Bird
tribute by Terry Cavanagh (the maker of Hexagon). The bird is quite hard to distinguish and the pipes changed, but the spirit (and the difficulty level) of Flappy Bird were kept! You can fly up (with the up arrow key) and dive (with the down arrow key). Enjoy Maverick Bird (don't forget to listen to the music, which is great). If you like Maverick Bird you might also enjoy
Delirious Bird
.
Add Maverick Bird to your website / blog
x - close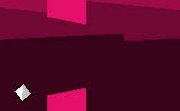 Maverick Bird
Note: to add the above image and link, you need to be insert the following code as HTML code. If you are not sure how to do this, please contact us and we will assist you!
Maverick Bird is an online skill game which you can play for free here at CrazyGames.
It has been played 375495 times and has been rated
7.7 / 10 (from 5014 ratings)
. Maverick Bird is one of the many
skill games
that we feature. If you want to play more games, check out
Flappy Bird
or
Grumpy Beaks
. To play even more games, head over to the
all time best games
page.
More »
If the game is not working, please let us know by clicking here.