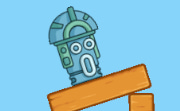 Use your computer to play Idolzzz. Or try one of the games below!
Idolzzz is a unique puzzle game with an interesting twist. The aim of the game is simple – you must place the ancient idol in the box to be packaged and shipped away. Barring your path however is a series of obstacles that increase in difficulty the further you progress. You can remove the obstacles simply by clicking on them and this will alter the course of the idol.
Control
Left click to remove a board.