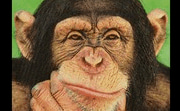 Use your computer to play Ayumu Chimp. Or try one of the games below!
A 7 year old Japanese chimpanzee named Ayumu is surprisingly good at a simple memory test (
click here
to see how good he is). Can you beat him? Click the circle, remember the numbers, and click the corresponding squares in increasing order to find out.