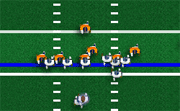 With the Super Bowl just behind us it might be fun to play some American Football! 4th and goal 2014 offers a semi-realistic simulation with different types of formations and strategies that you can use to make plays and score against the opponent. Good luck!
4052
likes,
394
dislikes.
Add 4th and Goal 2014 to your website / blog
x - close
Note: this needs to be inserted as HTML code. If you are not sure how to do this, please contact us and we will assist you!
Website / Blog
<div class="crazyGamesComGame"><div class="cgContainer" id="4th-and-goal-2014_640_480">[Here comes the game]</div><a class="cgLink" href="http://www.crazygames.com/game/4th-and-goal-2014?utm_source=under_game&utm_medium=4th-and-goal-2014&utm_campaign=addthistoyourwebsite"target="_blank">Original</a></div><script src="http://www.crazygames.com/assets/add-widget/add.js" type="text/javascript"></script>
Tumblr
<p class="crazyGamesComGame"><span class="cgContainer" id="4th-and-goal-2014_640_480">[Here comes the game]</span><br /><a class="cgLink" href="http://www.crazygames.com/game/4th-and-goal-2014?utm_source=under_game&utm_medium=4th-and-goal-2014&utm_campaign=addthistoyourwebsite"target="_blank">Original</a></p><script src="http://www.crazygames.com/assets/add-widget/add.js" type="text/javascript"></script>