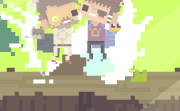 Use your computer to play Super Adventure Pals: Battle Arena. Or try one of the games below!
Super Adventure Pals: Battle Arena
One day, in the middle of celebrations for the birth of a young rock, there was a a dance party. Not any party, but the most radical fun time dance party ever. While the pals enjoyed their party, they were observed by a dark lonely figure which the palls knew as Mr. B. Mr. B was mad because he did not get invited. He thought that he had the best dance moves ever so he was confused. This made him want to take revenge on the pals. He decided to build a super computer that would eat up the pals, and created putie pals instead that would invite him to their party. The computer jumped in and interrupted the fun times... The Super Adventure Pals are back. This time for a classic arena fight! Have fun with Super Adventure Pals: Battle Arena.
More Games In This Series