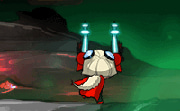 Use your computer to play Punk Raid. Or try one of the games below!
Punk Raid is an extremely difficult shoot 'em up game in which you score points by killing monsters and buy upgrades between waves.
Left and right arrow keys to move. Up arrow key to shoot, down arrow key to pick up a weapon. Esc to go to the upgrade menu, amnd -+ to control the volume.