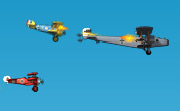 Use your computer to play Dogfight. Or try one of the games below!
Enjoy Dogfight and make sure to also try its sequel
Dog Fight 2
. Take on the role of a pilot of fighter aircraft and participate in World War 1 to destroy the enemies. In each level, you need to eliminate all of the enemies, including AA guns and bomber planes! Do tactical maneuvers to shoot down enemies while avoiding their attacks. The smoke in the aircraft determines the damage; the darker the closer it is to be destroyed. Are you tired of playing in solo mode? Ask your friend to join the fun; both of you are accompanied by AI-controlled aircraft and face each other in battle. Good luck!
Single player controls
Up and down arrows to move up and down
Space bar to fire
Two player controls
Player 1: Up and down arrows to move up and down. Enter to fire
Player 2: W and S to move up and down. Left shift to fire
Developer
Dogfight is a game by Rock Solid Arcade.
More Games In This Series