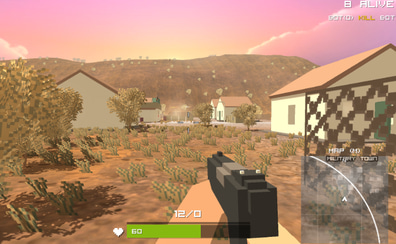 Use your computer to play Crazy Royale Battleground. Or try one of the games below!
Crazy Royale Battleground
Crazy Royal Battleground is the wacky sandbox battle royal game in which you must try and survive the longest through gunfight with other players. Parachute straight from a plane and pick your perfect spot to land, be quick and choose wisely as you will need to pick up weapons hidden in the landscape before other players do.
Besturing
WASD or arrow keys: movement
F: interact or pick a weapon or parachuting
Space bar: jump
Left shift: run
Left mouse button: shoot
R: reload
C: crouch
V: change camera
Tab: open inventory
M: open map