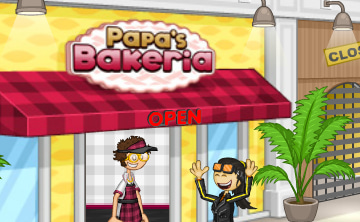 Use your computer to play Papa's Bakeria. Or try one of the games below!
In this sequel to the well-loved Papa's Pizzeria, Papa Louie is back in town and has now opened a bakery! You play a new employee at Papa's Bakeria, and your task is to fulfil customers' orders for delicious pies. This involves adding the right ingredients to the pie, as per customers' requests, baking the pie for the correct amount of time, and then adding toppings as neatly as possible. For each pie you successfully bake, you gain experience, and if the customer is satisfied then he or she will give you a tip! As the game progresses, more and more customers line up demanding service. They don't like to wait too long, and demand well-made pies, so keeping them all happy becomes an ever more frantic balancing act that requires good memory skills, great eye-hand-co-ordination (customers don't like messy pies!), and a cool head! You can buy improvements to your uniform using wages and tips you have earned, and if you do well you will be awarded promotions for your hard work. Handily, the game saves your progress, so you can return to it later, and variety is added by a number of mini-games. Papa's Bakeria builds on
a popular formula
to create a fun and addictive time-killer.
UPDATE:
If you like it, you should also try it's amazing sequel:
Papa's Sushiria
!
More Games In This Series