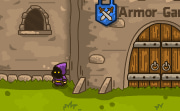 Use your computer to play Summon the Hero. Or try one of the games below!
Summon the Hero is a tower defense game set in a fantasy world. In its 4 campaigns you have to fight 18 battles against many different enemies. You can use up to 3 heroes. Don't forget to listen to the epic soundtrack!
See in-game for a detailed explanation of game controls.