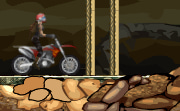 Use your computer to play Moto Tomb Racer 3. Or try one of the games below!
Ride your motorbike through a dangerous tomb which is not only filled with obstacles (and treasures as well!). In Moto Tomb Racer 3 you take on the role of Lara Croft and must pass many deadly traps while you collect treasures along the way.
Arrow keys or WASD to ride your bike. Spacebar to break, and Q/F to change direction.