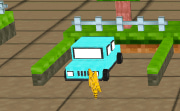 Use your computer to play Minecraft Mega Parking. Or try one of the games below!
In Minecraft Mega Parking you have to follow the direction arrows to reach your parking destination while collecting stars along the way. There are many levels waiting for you, and there are also different skill levels to complete. Good luck!
Use the arrow keys to steer, and spacebar to brake.