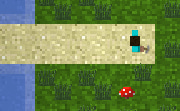 Use your computer to play Minecraft Tower Defense. Or try one of the games below!
How long can you survive against the hoard in Minecraft Tower Defense, a minecraft-inspired tower defense game?
How to Play
Set your path, pick your weapons, and DEFEND. In this exciting tower defense game, you have to defend your base from evil characters such as Creepers. Upgrade and build more defense weapons to stop the enemies.