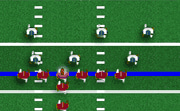 Use your computer to play 4th and Goal 2013. Or try one of the games below!
4th and Goal 2013 lets you play some intense football. Play a championship game (directly for the title) or participate in a playoff tournament (single elimination playoff season). Set the clock to 5, 10, or 15 minutes and get ready to crush your opponents!
Use space bar to snap the ball. Arrow keys to play defense or run with the ball. While running, use the space bar for spin moves. Also use the space bar for big hits on the defense. This can cause fumbles! Use ASD to pass the ball on offense, and W while running to get a speed boost.
More Games In This Series