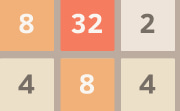 Use your computer to play 2048 Losing Version. Or try one of the games below!
The Anti version of 2048, in which it is the goal to lose the game with as few points as possible (and at most 512 points). Not easy after you have played the
normal 2048 game
for the past week! Made by Abhishek Kadian.
More Games In This Series