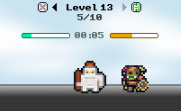 Use your computer to play Idle Fight. Or try one of the games below!
Idle Fight is…. As you guessed it an idle fighter game! You control a hero who automatically fights a range of different enemies and monsters. It is your task to improve your fighters stats and turn them into a true behemoth that can conquer any foe! As your hero fights, they collect gold for each enemy the defeat – you can use this gold to purchase upgrades including improved damage, improved HP and improved accuracy.
Controls
Left click to buy an upgrade.