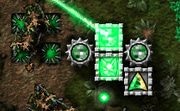 Use your computer to play GemCraft 2 Chasing Shadows. Or try one of the games below!
GemCraft 2 Chasing Shadows
With the arrival of GemCraft 2, Chasing Shadows, the GemCraft story continues, bigger and meaner than ever before... Just as in the previous games, GemCraft is a tower defense game with a twist: instead of towers, your weapons are gems. Use them to fight off the endless hordes of attacking monsters. The possibilities of what you can do with the gems are endless: Place them in towers, traps or amplifiers, combine them to create more powerful gems, replace and switch them if you think that is necessary, drop them as gem bombs or activate powerful buildings. Everything is possible! As the storyline develops you will find yourself fighting dark enemies, unfolding mysteries, and finding artifacts, as you try to chase and slay down the Forgotten, a mythical archdemon. Good luck on your quest!
More Games In This Series